Matthew Wise, M.D.
Certified Doctor of Venous & Lymphatic Medicine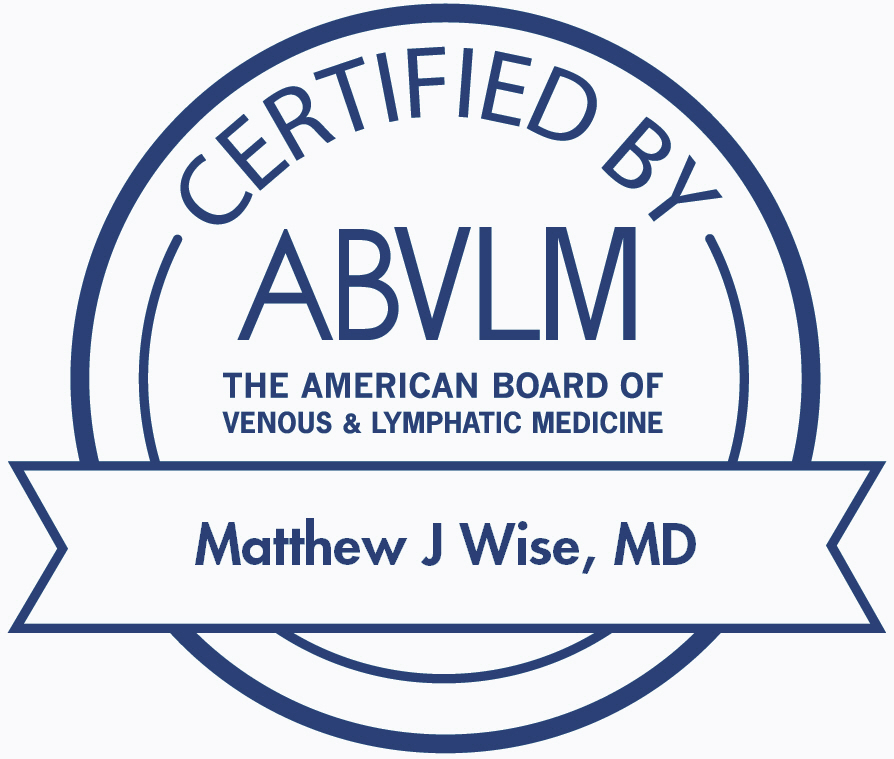 Specializing in vein treatments in Orange County, CA.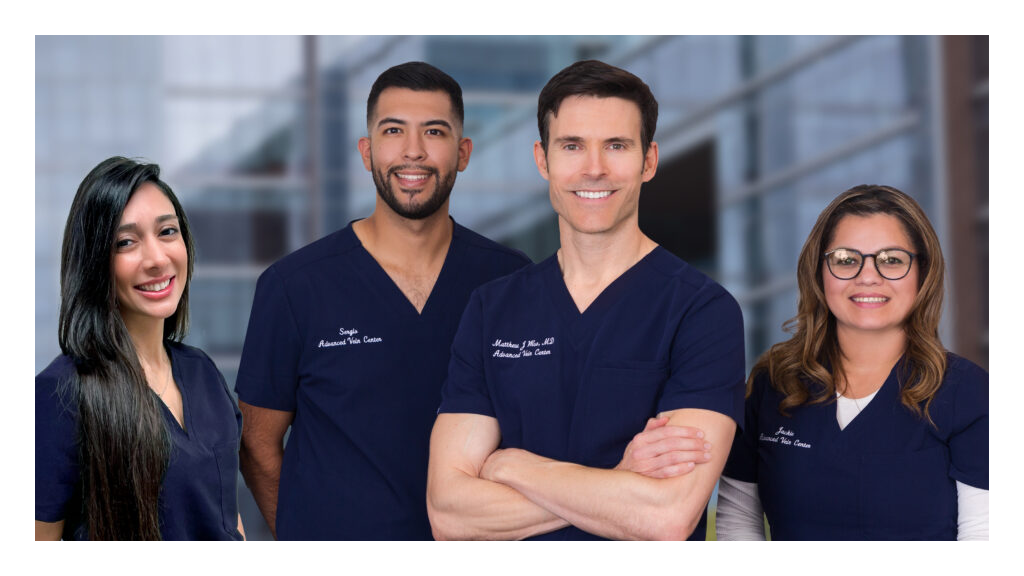 Endovenous Laser & Radiofrequency Ablation (EVLA) is a minimally-invasive procedure commonly used to treat varicose veins resulting from chronic venous insufficiency. During the procedure the doctor creates a tiny cut in the skin to insert a laser fiber into the diseased vein. He numbs the area with local anesthetic then activates the laser. As he withdraws the laser the vein collapses and is sealed. The body is then able to re-direct blood flow through healthy veins.
VenaSeal™ is an injectable treatment for varicose veins. Unlike other treatments, VenaSeal™ doesn't use heat or a foaming sclerosant medication to close damaged veins. Instead, it uses an adhesive substance to help varicose veins close and stay shut. During the procedure, Dr. Hoyle makes a small puncture in the leg and guides a catheter into the diseased vein. Then, while slowly withdrawing the catheter, he injects the adhesive substance into the varicose vein. Pressure is then applied to the vein to help it close and seal itself.
Patients who have been diagnosed with restless leg, diabetic neuropathy, or other conditions who are not showing improvement with treatment may want to seek a second opinion. With these and other venous conditions, the symptoms are often very similar and a misdiagnosis can extend the time that a patient suffers from a painful condition. If patients from Orange County or the greater Los Angeles area are concerned that their treatment is not as effective as it could be, they should make an appointment with Advanced Vein Center. Our doctors are truly experts in their field and are among the leading physicians treating venous conditions in the United States.
Our doctors conduct thorough assessments to determine whether a patient's symptoms are actually caused by varicose veins versus another condition. For example, many patients who have venous disease also have arthritis and back problems with sciatica. This means their pain may be a result of these other conditions and not associated with their varicose veins. At Advanced Vein Center we will never perform a treatment unless we know for certain it is the right approach for a patient's symptoms.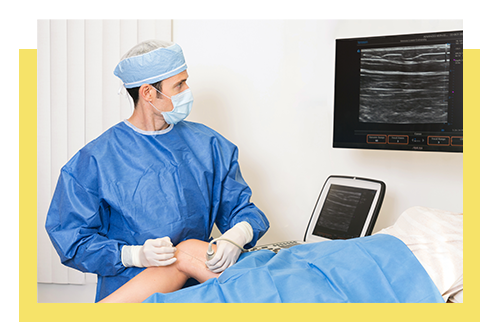 Advanced Vein Center
Vein Specialists located in Orange, CA
Advanced Vein Center was founded by California's leading experts and pioneers in the field of Phlebology (the specialty of vein disorders). For over 15 years, we have been delivering patients superior results while saving them thousands in treatment costs. All of our doctors are certified by the American Venous and Lymphatic Society as specialists in the treatment of venous disease. Advanced Vein Center is a renowned vein treatment center in Southern California specializing exclusively in the diagnosis and treatment of venous disorders including spider veins and varicose veins.
What Makes Us Different
Experience ♦ Ethics ♦ Results
When you trust your care to Advanced Vein Center you can feel comfortable in the confidence that your treatment is being at one of the most respected and ethical clinics in Southern California. All our procedures are done in our office on an outpatient basis with the use of local anesthetic and mild sedative if needed. This saves our patients thousands of dollars on expensive hospital bills. The patient is awake throughout the procedure and able to resume normal activity almost immediately.
Advanced Technology and Techniques
Advanced Vein Center is pleased to offer patients and clients flexible payment options including:
Most PPO insurances accepted
Medicare
Care Credit Financing Program Available
Credit Cards Accepted: Visa, Master Card and Discover
Please contact the office for complete coverage details and questions
















HIGHEST RATED
Better doctors get the Best results!


4.9 STARS
based on 62 Google reviews


4.8 STARS
based on 64 reviews


5 STARS
based on 5 opinions
Jocelyn W

There's a reason Dr. Wise and staff consistently receive 5-star reviews – they check the box on many elements: knowledge, skill, professionalism, and care. Each patient is treated more like a family member rather than just a number and is cared for with kindness. Dr. Wise is incredibly knowledgable and takes the time to walk you through the details so you know exactly what is happening and what you can expect. I'm so glad I finally found my go-to place to treat my vein issues that I have been battling for the past decade. I had some issues with my insurance and their team did an excellent job trouble shooting the process from A to Z. Who does this? Thank you Dr. Wise, Jackie and Sergio!
Tonya M

Thank you to Dr. Wise and the entire staff at Advanced Vein Center. I am so happy I came here after years of suffering from annoying ugly spider veins. I can't believe how great the results are after just a few months. Dr. Wise is incredibly knowledgeable and he takes the time to walk you through the details while answering all your questions so you know exactly what to expect. He is generous with his time as well and makes sure you are happy at the end of your session. I couldn't be more thankful for the kind treatment and such great results. The staff makes the office so nice to visit, especially Jackie. She is so personable and kind and always has a smile. Can't forget Sergio, he is always helpful and kind. If you are struggling with spider veins I would highly recommend this place!
Georgia P

The doctor is so personable and my leg is feeling so much better. They answer the phone on the first ring and I never had to wait for my appointment for n the office, they took me right in. The also worked with my complicated insurance effortlessly. If I had known it would be this easy I wouldn't have waited so long to get started.
Kelly D

I am EXTREMELY scared of veins and needles, my phobia is very real and I always have a panic attack dealing with anything involving needles. EVERYONE at this office has been incredibly kind and thorough. I can't say enough about how much I love the staff and Dr Wise. The results are amazing and I would recommend them!
Mellie B

Overall very happy with my results and with this office! The staff is friendly and nice. Dr Wise was personable and had great bedside manner. He explained everything to me and answered all of my questions. Price is very fair. Great office if you have vein issues!!!
Denise V

The staff at Advanced Vein is the kindest I've ever experienced in a medical environment.  
Dr Wise explained my procedures thoroughly and reassuringly. Sergio was understanding, gentle, and knowledgeable regarding my leg sensitivity and took great care when performing my ultrasound exams. All personnel are calm and efficient and treated me with excellence. I've had four or five visits there so far. Parking is free, easy and office is on the ground floor.
Laura R

I'm very satisfied with the results. My spider veins contributed to my hesitancy in wearing shorts. But, after getting treatment at Advance Vein Center my spider veins have dramatically faded away. You do have to be patient to see the results since right after treatment your veins are irritated. Everyone is very professional. The doctor took time in explaining the procedures which I really appreciate.
Favi M

Excellent place! Great staff! I have been suffering with varicose veins since I was sixteen years old. I couldn't wear shorts or even capri pants because I felt embarrassed of the way my legs looked. Aside from the cosmetic issues, the vein pain discomfort and the swelling was the worst part for me. I started looking online for many places and found advanced vein center. I am so glad I did. Dr. Wise, Layla, Jackie, and Sergio made me feel very welcomed for every appointment. I never felt rushed and Dr. Wise always took his time to listen to me. I can feel and see a difference in my legs. Very thankful!
Tammy P

Dr Wise and staff are very knowledgeable and excellent caregivers. They are concerned with not only how you feel as a patient, but also with your general health and well being. While having a procedure done, they make sure you feel comfortable and calm. I've already recommended them to several of my friends.
Jenna D

I don't think I've ever left a Google Review before but I really needed to with Advanced Vein. If you are considering getting vein care in OC, I cannot recommend this place enough. From the second I walked into their office, I felt welcomed and in good hands. Everyone there is so knowledgeable and friendly. Dealing with vein issues can feel overwhelming and so stressful initially. The professionalism and genuine care everyone provided has been amazing. Dr. Wise never made me feel rushed in the consultation, he answered any question that I had with patience and attentiveness, went over in detail how sclerotherapy works and its (minor) risks – all of which set me up for a realistic expectation on positive end results. I feel so comfortable and optimistic getting care here. I still have 1 or 2 treatments to go but I am already already feeling (and looking) so much better. I can't recommend this center enough. Thank you Dr. Wise + wonderful team! 😊
T Z

This is absolutely the only place you need to go to treat your varicose veins. The whole team of Dr. Wise, Sergio, and Jackie is top-notch. Dr. Wise is knowledgeable, caring, skillful, and very flexible (can get your treatment started in a few days). Sergio is meticulous and methodical with Ultrasound scan (this is actually super important in order to identify the root problem of varicose veins and come up with the right treatment plans). Jackie is the ultimate scheduling master. My legs are looking so much better now. My only regret was that I had not started the treatment with them earlier.
Mercedes L

I am writing this review on behalf of my mom. She had been suffering from varicose veins for many years due to standing long hours for work. Her ankles were throbbing and in so much pain. She went to Advanced Vein Center for a 2nd opinion due to a very bad experience with another doctor. She was immediately put at ease when she met the Dr. Wise and his team. They were all so kind and informative. She is currently being treated by Dr. Wise & is so happy to be in his care. The relief she felt was immediate. We are so thankful for them!
Nga D

For years I have had varicose veins, and they are definitely not attractive or comfortable to have. Multiple times, vein specialists prescribed compression stockings, but they didn't work. As I age, the varicose veins gotten worsen. The next step was to treat it surgically. I consulted a vein specialist at Hoag's Hospital, but I never got to the procedure due to covid pandemic shutdown. A few months when the pandemic improves, I decided to seek treatment again with Advanced Vein Center. Dr. Wise and his staff (especially Jackie) were amazing. They were friendly and professional so I am very satisfied with my experience. After several visits, I notice an amazing transformation on my varicose veins. I highly recommend Advanced Vein Center for your treatment.
Sarah G

Haven't had my veins treated in over 10 yrs. So there was a lot of work to be done. Everyone in the office was friendly. Dr. Wise was very good at explaining everything. Dr. Wise worked quickly to utilize every min that I paid for and I appreciated that. After one week I was almost completely healed and most of my veins had disappeared. I have one more appointment and then my legs should be ready for the summer! Thanks to AVC.
Denise V

The staff at Advanced Vein is the kindest I've ever experienced in a medical environment.  
Dr Wise explained my procedures thoroughly and reassuringly. Sergio was understanding, gentle, and knowledgeable regarding my leg sensitivity and took great care when performing my ultrasound exams. All personnel are calm and efficient and treated me with excellence. I've had four or five visits there so far. Parking is free, easy and office is on the ground floor.
Zoya S

I was referred to Dr. Wise by my daughter. Dr. Wise and his staff have been very professional and attentive to my needs. They listened to my concerns and answered all questions. Dr. Wise explained everything in great detail and recommended combination of 5 procedures. I had the producers done within 1,5 months and I am very pleased with the results. All procedures were painless and recovery was pretty quick. My legs look healthy now and varicose veins are hardly visible. I highly recommend Dr. Wise and his team for your vein needs.
Contact Us
Send A Message to Advanced Vein Center
If you have any questions, concerns, or comments regarding Advanced Vein Center, please fill out the short contact form.