Dr. Hoyle
Board Certified Doctor of Phlebology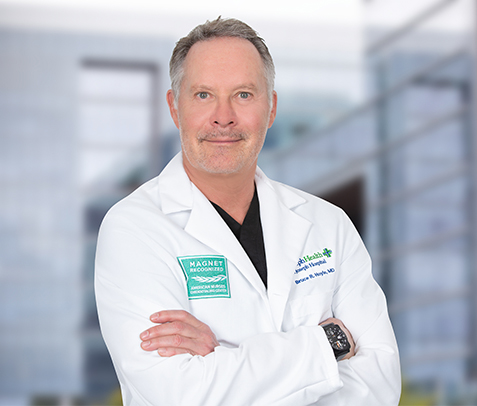 Dr. Hoyle is one of California's leading experts and pioneers in the field of Phlebology (the specialty of vein disorders). With over two decades of experience, he was the first physician in Orange County to perform endovenous laser ablation. He was also the first doctor in southern California to perform microphlebectomy and the first to utilize tumescent anesthesia for vein procedures. He has been an invited lecturer at Chapman University and appeared twice on the TV show, Health Matters.
Dr. Wise
Board Certified Doctor of Phlebology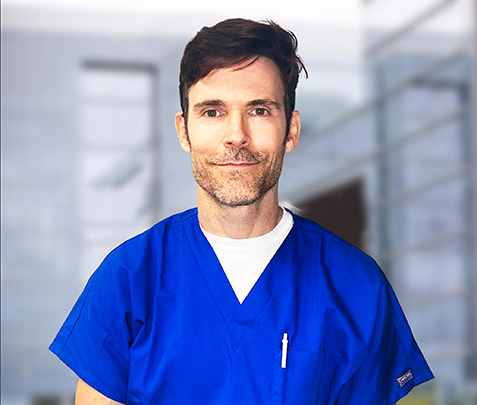 After graduating as the Valedictorian of his college class, Dr. Wise attended the University of Virginia School of Medicine where he was elected to Alpha Omega Alpha, the national medical honor society. He then completed a residency in Obstetrics & Gynecology at the University of North Carolina Hospitals. He subsequently provided comprehensive women's health care at an Indian Health Service facility in Gallup, New Mexico and at a critical access hospital in California's Eastern Sierra.
Exceptional Training
Dr. Hoyle has traveled to several renowned phlebology centers in the United States, Canada and Switzerland to study and practice with the world's leaders in the treatment of vein disorders. He even received training from Dr. Albert Ramelet, who is one of the world's recognized pioneers in the modern treatment of varicose veins. Dr. Ramelet has written a major reference text book on the treatment of varicose veins and designed some of surgical instruments used today.
Dr. Hoyle is a Fellow of the American College of Phlebology and is board certified by the American Board of Lymphatic and Venous Medicine. He is also a member of ARDMS with the credential RPVI® — Registered Physician in Vascular Interpretation. He has practiced medicine in Orange County for over 25 years. He was the first physician in Orange County to perform an endovenous laser ablation and mechano-chemical ablation. He was the first doctor in Southern California to perform microphlebectomy, using an eye surgeons scalpel to remove veins through incisions so small, sutures are not required. In 2007 Dr. Hoyle performed the first laser perforator vein ablations in Orange county. In 2016 he was invited to the island of Guam to help set up the first vein clinic there and continues to consult on their most difficult cases.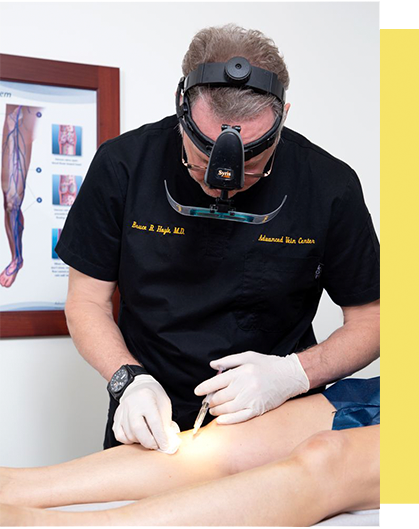 Comprehensive Treatments
Many patients will have more than one kind of vein problem and will require more than one kind of treatment to get the optimal results. Dr. Hoyle is qualified to offer an extensive variety of treatments to meet the individual needs of the patient. In many cases, a carefully coordinated treatment program will be necessary to restore vein health, proper circulation and the desired esthetic results. Dr. Hoyle will review in detail the various treatment options for your individual vein condition and the expected results of the procedures.
Dr Hoyle's extensive training and expertise have made him a valuable resource to both patients and doctors alike. He follows a strict code of ethics making the patient the top priority – not profits like many larger vein clinics or med-spas. In addition to being a Fellow of the American Vein & Lymphatic Society, Dr. Hoyle has also been board certified in sports medicine and is able to perform orthopedic assessments. This gives him a unique advantage in determining the true cause of a patient's pain, whether due to venous disease or an unrelated orthopedic problem such as sciatica or arthritis. It is critical to verify that the root cause of a patient's pain is, in fact, due to varicose veins before performing any procedure. Dr. Hoyle will never perform unnecessary treatments for venous disease when the true cause pain is due to an orthopedic problem. If your vein doctor is suggesting multiple ablations or to receive treatment immediately, get a second opinion. Patients should NEVER feel guilty for asking questions, inquiring about additional treatments, or feel pressed into making a quick decision.